Your Windows 10 computer has some problems and is unable to start or work? Please use the features Startup / Automatic Repair, factory reset the computer, System Restore to fix Windows 10 for free. This post will show you 5 ways to Repair Windows 10 in detail.
When your Windows 10 computer (or laptop) cannot function as normal, cannot boot, freezes or blue screen error appears, there are some steps you can take to fix the problem. 
Microsoft also owns a number of free Windows 10 Repair tools built into the operating system to help you fix the problems in Windows 10. We'll take turns to find out now.
If your Windows 10 computer is unable to boot, you can try to use Windows integration tool – Startup Repair to fix this problem.
Startup Repair Windows 10 is designed to help users fix problems that cause Windows 10 operating system to fail to load. You can use this best free Windows 10 repair tool to fix most Windows 10 booting issues. See more steps below.
Step 1 : Log into Windows Recovery mode.
Usually, you will have three different ways to log into Windows Recovery mode.
Option 1
 : You can turn on and off your Windows 10 computer 3 times to log into Windows recovery mode.
You can turn on your PC, and as soon as the Windows logo appears on the screen, immediately turn off the computer. You repeat this operation 3 times.
When doing the third time, the computer will boot into WinRE mode. Windows 10 Automatic Repair will try to diagnose and fix Windows 10 startup problems. However, if it doesn't work, you can also click Advanced options to access Advanced Startup options.
Method 2 : To log into Windows 10 Repair you need to navigate in order Start -> Settings -> Update & Security -> Recovery -> Restart now (under Advanced startup ).
The two ways above allow you to Repair Windows 10 without a CD.
Method 3
 : Access Windows Recovery using Windows 10 recoverable media such as DVD / USB boot drive.
You can insert the Windows 10 installation DVD or USB into the computer and restart your Windows 10 PC.

Next, press the Esc, Delete, F8, F2 or keys necessary to access the BIOS.

Then press 

the Right Arrow

 key to select 

Boot Menu

 , then press 

the Up

 or 

Down 

arrow key on your keyboard to select the DVD drive or USB device to be the boot device and select up on the top of the list of priorities. Press 

Enter

 to restart your Windows 10 computer.

Click on the 

Repair your computer option

 to access the Advanced option, to use the Startup Repair tool to fix Windows 10 startup problems later.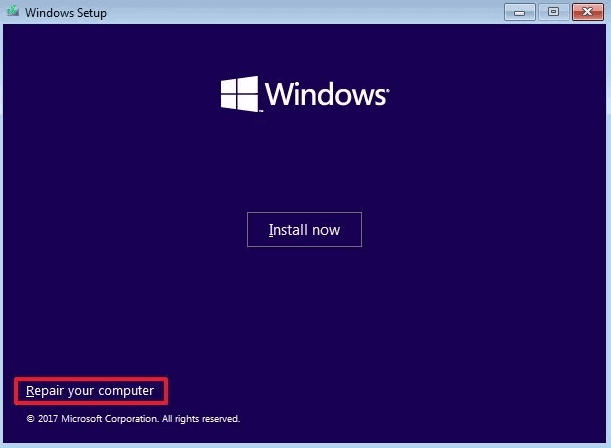 This way allows you to Repair Windows 10 from USB.
Step 2 : Repair Windows 10 for free with the Startup Repair Windows 10 tool
Once you are logged into Windows Repair mode, you need to press in the following order: Troubleshoot -> Advanced options -> Startup Repair .
The Windows 10 Startup Repair tool will automatically diagnose and fix startup problems.
And if your Windows 10 computer doesn't have any problems with booting, it will also display a message saying "Startup Repair couldn't repair your PC".
How to Fix Windows 10 by restoring settings to PC
If your Windows 10 computer is unable to function properly due to errors arising in installed applications, drivers, or because you have recently updated Windows then you can factory reset Windows 10 to proceed. fixes.
Feature Reset This PC will reinstall Windows 10, but it also lets you choose to keep personal files or delete them before reinstalling Windows.
There are many ways to help you reset Windows, but in this article I only guide you how to Reset Windows 10 through Settings and from the login screen (Sign-in Screen).
Method 1: Reset Windows through Settings
Step 1 : Navigate to Start -> Settings -> Update & Security -> Recovery .
Step 2 : Click the Get started button located below the Reset PC section .
Step 3
 : Choose a preferred Windows 10 PC reset option. You can choose 
Keep my files
 or 
Remove everything
 according to your needs and then click 
Reset
 .
Method 2: Reset Windows 10 through the login screen (Sign-in Screen)
Step 1 : Log into Windows Repair mode .
You can also boot your Windows 10 to go to the login screen. If you are logged in, you can press the Windows + L shortcut on your keyboard to access the lock screen.
Next, you can press the Shift key and click Power -> Restart on the login screen at the same time to help your Windows 10 reboot into the Windows Recovery environment.
Step 2
 : Reinstall PC to Repair Windows 10
You can then click Troubleshoot -> Reset this PC , and choose one of the bundled options to bring your Windows 10 back to its original state.
Fix Windows 10 through System Restore
To be able to repair and restore a Windows 10 computer using System Restore, you still need to log into Windows 10 Recovery mode to access the Windows 10 Advanced Startup Options Menu.
Step 1 : You can follow the 3 ways in the first section of the article to access Windows 10 Advanced options window.
Step 2 : In that window, you can click System Restore and your PC will reboot.
Step 3 : Select an account name and enter a password for your account. Then click Continue .
Step 4
 : Next, you can choose a system restore point and follow the instructions from the popup windows to go through the Windows 10 operating system repair and recovery process.
Tip: The System Restore feature can help you fix problems in Windows that can cause your computer to slow down, freeze or stop responding. Repair Windows 10 with System Restore doesn't affect your personal data and files, but recently installed software and drivers may be removed.
Fix Windows 10 boot error with BootRec command
You can also use the Microsoft Bootrec.exe tool to fix Windows 10 boot errors.
Step 1 : If your Windows 10 won't start, then you can follow the instructions in the first section to log into Windows Recovery mode, then select Command Prompt in the Advanced options screen to open the Command window. Prompt.
Step 2: Next, type bootrec.exe and press Enter in Command Prompt to open the BootRec tool.
Step 3 : You can enter the command lines below to fix the Windows 10 boot problem. You should press Enter after typing each command line.
Bootrec / fixmbr

Bootrec / fixboot

Bootrec / rebuildbcd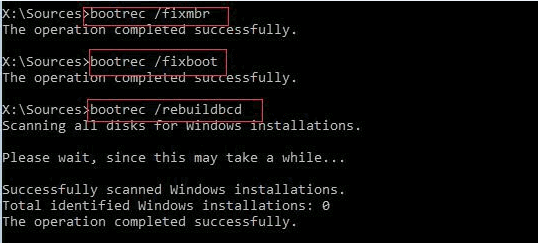 Reinstall Windows 10 
If all of the methods above didn't help, then the last thing you can do is to completely reinstall Windows 10 to fix all existing errors on the operating system.
This post gives you 5 ways to Repair Windows 10. You can perform Windows 10 Repair task with Windows 10 Startup Repair, Reset this PC, System Restore, BootRec command, reinstall operating system.
If you have any difficulty following the tutorial, please leave us a message in the comments below.