Your Windows 10 computer has some problems and is unable to start or work? This post will show you how to repair Windows 10 installation using the bootable Installation USB or DVD media without losing data. In a situation where Windows 10 Advanced Options troubleshooting options are not accessible from within the Windows, you need to use a USB or DVD media. 
You can insert the Windows 10 installation DVD or USB into the computer and restart your Windows 10 PC.
Next, press the Esc, Delete, F8, F2 or keys necessary to access the BIOS.
Then press the Right Arrow key to select Boot Menu , then press the Up or Down arrow key on your keyboard to select the DVD drive or USB device to be the boot device and select up on the top of the list of priorities. Press Enter to restart your Windows 10 computer.
Click on the Repair your computer option to access the Advanced option, to use the Startup Repair tool to fix Windows 10 startup problems later.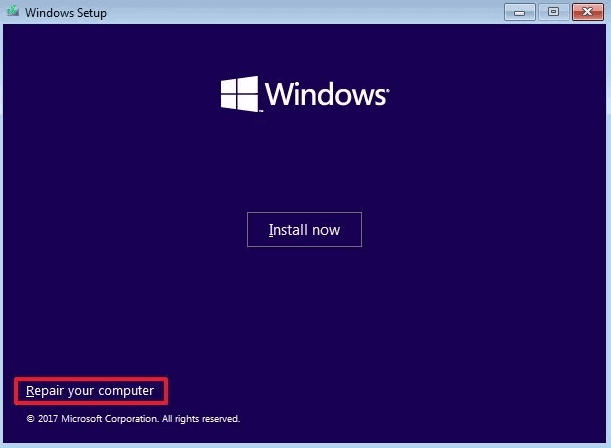 This way allows you to Repair Windows 10 from USB.
Create a bootable disk or USB
*If you don't have a disk or USB, download the ISO from a working computer and try creating a bootable disk or USB.
If you can't start your PC, follow these instructions to get to the Windows Recovery Environment.
Start your computer from the installation media, Insert the DVD or USB flash drive and restart your computer.
If you see a message asking you to "Press any key to boot from DVD," do so. If you don't see the message, you might need to change the boot order in your computer's BIOS settings so that it first starts from the DVD or USB.
When you see the Install Windows page, tap or click Repair your computer to start the Windows Recovery Environment.
In the Windows Recovery Environment, on the Choose an option screen, tap or click Troubleshoot.
Tap or click, advanced options and then click on Startup repair.
After this complete the repair and see if you are able to boot in to your computer.
Windows 10 ISO file Download:
http://www.microsoft.com/en-us/software-download/windows10 
Once the problem is resolved, the computer should reboot as usual, and you should be able to use it!